Welcome to Kansas Outdoor Advertising, Inc.
(Click on Images to Enlarge)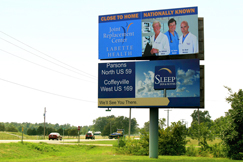 Identify with well-maintained billboards
Kansas Outdoor Advertising, Inc. gives your ad exclusivity (by contract) in billboard advertising with regards to your specialty. For example, we won't advertise the same specialty going in the same direction at the same location. We believe that loyalty is the best way to sustain long-lasting business relationships, and we are fully committed to it 100%! We know that you want to increase your sales, gain more exposure, or even show a little status in the region. Our goal is not to just meet the needs of our clients; we aim to exceed their expectations with a consistent and outstanding quality of service.
We serve multiple communities from strategically placed locations on state and federal highways with high traffic counts. Considering that, we provide national, regional, and local advertisers the opportunity to pull customers outside their own communities, rather than inside where everyone knows they already exist.
Some of the various industries we have served include:
For more information, please give us a
call today
. If you're an advertiser that wishes to work directly with us without having to rely on local management as a go-between, we are definitely the company to choose.